Animal Encounters
Safari Wild Animal Park invites you to meet our beloved animals, offers you a magical experience on the back of our camels, the chance to get up close with our gorgeous giraffes by hand-feeding them and the opportunity to take fabulous photos with the active and noisy lorikeets. Discover why each animal is so important in the wild and learn from our passionate staff about each animal's unique personality. Don't forget about the farmyard fun we offer for kids of all ages, although we're sure you will join them, as everyone loves hand-feeding our beautiful baby animals!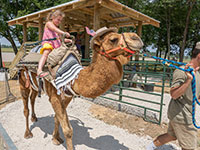 Camel Rides
CLOSED
Camels are loving and loyal animals, very protective of their owners and they like showing it. They are intelligent, emotional, and form close bonds with humans. These mammals have a wide range of facial expressions and a unique personality, this is part of what makes them so special and lovely. Camel riding is a fun and engaging activity, easy and suitable for all people. If you want to relax on top of a chilled out animal and see from a different perspective thanks to their height, camel riding is a perfect choice. Camels have a long history of living and working with humans and are now used for many different purposes.
Did you know that camel noises were used to voice the character Chewbacca in the Star Wars movies? Choose a camel ride at Safari Wild Animal Park and find out even more facts about these beautiful mammals!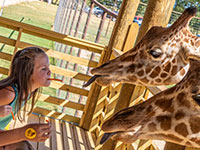 Giraffe Feeding
$5.00 (plus tax)
Weather Dependent


Giraffes are the world's tallest mammals, thanks to their towering legs and long necks. They are graceful, well-groomed individuals moving through life with the confidence and elegance that only big game animals exhibit. Giraffes' favorite food is the acacia, a genus of trees and shrubs that are common in their environment, but they also consume herbs, fruits, seeds and leaves of more than 100 types of plants. Giraffes are avid eaters when food is plentiful, so they can eat up to 34 kg of vegetation every day.

Did you know that the patterns on each giraffe are unique, so no two are ever alike and their tongues are 18 inches long and have a unique black or dark gray color? Get close and feed these lovely animals at Safari Wild Animal Park and find out more amazing facts about them from our experienced staff!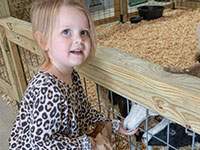 Petting Zoo Barn
Included with admission
A petting zoo offers a combination of domesticated animals and some wild species that are docile enough to touch and feed. Animals in such zoos are typically gentle, domesticated baby animals like lambs, puppies, kittens, ducklings, and bunnies. These kind of zoos are perfect for children, as they can get up close to animals and pet them. The petting zoo barn at Safari Wild Animal Park is well supervised to prevent injury to either children or the animals and our staff will help you in whichever way you need.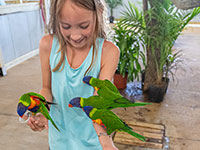 Lorikeet Feeding
$5.00 (plus tax)


The Rainbow Lorikeet is a medium sized species of Australasian parrot, which ranges in length from 25–30 cm (9.8-11.8 in) with an average wingspan of 17 cm. Lorikeets are naturally nectar feeders. In the wild they feed on the nectar of native flowers, on different kinds of berries, fruits and sometimes greens. Their plumage is very bright and colourful, and they love welcoming guests to Safari Wild Animal Park! These colourful, active and curious birds are not shy of humans and like to eat right from your hands or take a rest on your head and shoulders.

Did you know that approximately 70% of their day is spent feeding? Come interact and find out more about the playful Lorikeets at Safari Wild Animal Park!


Click on the images below to view a larger display.


Monkey Animal Encounters

Giraffe Animal Encounters

Llama Animal Encounters

Giraffe Animal Viewing

Camel Riding Zoo Park

Animal Feeding Zoo

Zebra Animal Encounters

Emu Animal Encounters

Camel Riding Animal Park

Camel Riding Zoo

Kids Riding Camels

Giraffe Petting Zoo