SAFARI WILD ANIMAL PARK, located 65 miles from BARTLETT, TN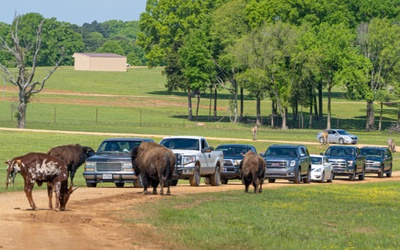 Bartlett, TN is a 65 Mile drive to our Safari Park in Como, MS.
We invite families from Bartlett, TN and its surroundings to come and spend a lovely day at Safari Wild Animal Park, Mississippi's premier Safari Park. It is just a short drive south of Memphis on interstate 55; it's also better, larger and closer than our competition and quite less drive time, meaning less gas expense and more family time. At Safari Wild you will have the opportunity to get up close and personal with animals, interact, feed, and photograph them. We invite you to spend a relaxing day in nature, take beautiful photos with wild animals that will offer you an once-in-a-lifetime, unforgettable experience.
Safari Drive and Walk Through near Bartlett, TN
Our Safari Park is a zoo-like drive-in tourist attraction where visitors can drive their own vehicles and observe freely roaming animals in their natural environment. Safari Wild Animal Park features a stunning 466 Acre authentic African Drive-Through and Walk-Through Safari Park. You can travel through our 6.5-mile drive and experience hundreds of our amazing animals: ostriches, zebras, camels, giraffes, aoudads, buffalos and many more! Our Walk Through Safari features different exotic animal; you can see the world from a different perspective on the back of a friendly camel and come close and personal with our stunning giraffes or lorikeets while feeding them from your own hand.
Meet our amazing animals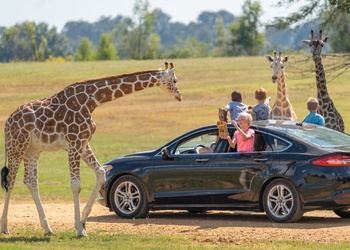 "Until one has loved an animal, a part of one's soul remains unawakened."
- Anatole France
Animals are creatures that bring us so much happiness every single day. They are loving, compassionate and a friend to all people. Moreover, spending time in the presence of animals has been found to lower blood pressure, reduce stress hormones, and release chemicals that trigger relaxation. Animals show us many positive ways to live and love our lives. In various cultures, they have been used as metaphors and examples to teach us positive values, behaviors and aspirations. For example, in Arab cultures the camel symbolises patience, tolerance and endurance. The giraffe symbolizes grace, peace and farsightedness.
We offer you the opportunity to get up close and personal with some of the most amazing animals, get on the back of a lovely camel, hand feed a gorgeous giraffe and the curious lorikeets, but also spend time with our baby animals in the petting zoo. At Safari Wild the animals are respected, and well-cared for by people who are dedicated to providing the best possible conditions for them – us. You have to come and meet our remarkable animals, and learn more about them!
Whether you're a Bartlett, TN resident or just visiting the area, our wildlife Safari Park will give everyone in your family the opportunity to explore the African wildlife in a relaxing way. We invite you to come and enjoy a lovely Safari experience with our wonderful animals. Contact us for more details on our Safari Animal Park.