SAFARI WILD ANIMAL PARK, located 40 miles from SOUTHAVEN, MS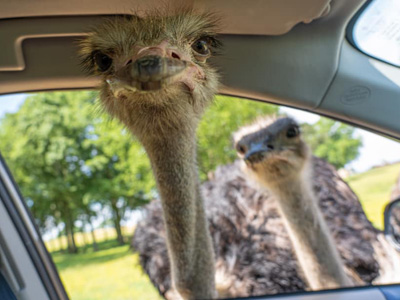 Southhaven, MS is a 40 Mile drive to our Safari Park in Como, MS.
We invite families from Southaven, MS and its surroundings to come and spend a lovely day at Safari Wild Animal Park, Mississippi's premier Safari Park. Here, you will have the opportunity to get up close and personal with animals, interact, feed, and photograph them. We invite you to spend a relaxing day in nature, take beautiful photos with our wild animals that will offer you an once-in-a-lifetime, unforgettable experience.
Safari Walk-Through and Drive-Through near Southaven, MS
Safari Wild Animal Park is proud to offer you a wonderful authentic African drive-through and walk-through where you'll get the chance to get up close and personal with many animals which will come right up to your vehicle for a greeting. Come face-to-face with a camel, a buffalo, a zebra or hand feed a gorgeous giraffe. Here, you'll be able to see animals run and bounce around on our 466-acre property. You can drive your vehicle over 6.5 miles of maintained gravel road and feed the animals through your windows, as our animals are free to roam! But make sure you're not in a hurry as the animals often block your path or lay flat-out in the sun...they get to choose!
There's so much more to see and do in the Drive-Through and Walk-Through Safari - and don't forget to take a spin on the back of one of our wonderful camels!
Get wildly connected with our fun animal encounters!
We encourage interaction between our animals and our visitors by allowing them to feed the amazing animals with our specialty grain. We believe that the experience of having a huge giraffe or buffalo only inches away, feeding on your bucket, is virtually impossible to describe. This unique animal encounter park appeals to all ages and has become one of the region's top attractions. Our lovely staff is dedicated to helping guests appreciate our animals in the beautiful and natural setting.
Come visit us at just a short drive south of Memphis on interstate 55, to meet all the animals you can usually see only on TV. We can offer you a wonderful authentic African drive-through, where you can meet, feed and interact with our amazing animals: camels, giraffes, ostriches, zebras, aoudads, buffalos, watusi, cattles and many more!
Whether you're a Southaven, MS resident or just visiting the area, our wildlife Safari Park will give everyone in your family the opportunity to explore the African wildlife. Come out and enjoy a great Safari experience with our beloved animals. Contact us for more details on our Safari Animal Park.