African Wildlife Safari Park in Como, MS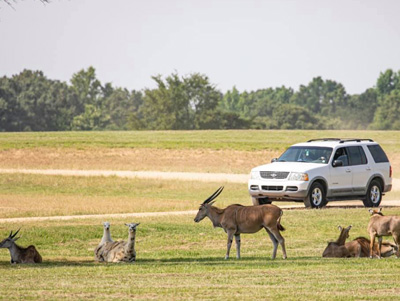 Jackson, MS is a 140 Mile drive to our Safari Park in Como, MS.

When it comes to spending a great weekend with family and friends near Jackson, MS, many activities may come to your mind. A visit to an animal safari park can be a unique, eye-opening, and memorable experience for you and your loved ones. Spread across 466 acres, Safari Wild Animal Park & Preserve provides you with an African wilderness environment and some of the most iconic and exotic species from all around the world. Explore the different species in our park and the different types of activities you can engage in.


Our Key Attractions
We believe that an animal park and preserve should always offer an experience that is stunning, beautiful, mind-opening, and memorable. Our key attractions include a variety of wildlife species and several rides and feeding experiences. This includes giraffes, wild ibex, zebras, alpaca, camels, watusi, and many other species right in a place near you in Jackson. We have created multiple unique experiences for our visitors that keep bringing them back for more. With over 6.5 miles of roads that you can drive through multiple times, you will always feel like spending your time on an African Safari.

We host animal species from all over the world, providing them a safe, uniquely open, and friendly environment. While creating an open sanctuary for our animals, providing them their natural habitat, all our attractions and programs are focused on educating our visitors on wildlife.


Our Animals
We have created an African Safari park and preserve right in Mississippi, but we feature animal species from all over the world. While you can find our park to be reminiscent of an African Safari, you should not be surprised to find an Alpaca, Emu, or other species from South America, Asia, or Australia. We have created just the environment and habitat for each species to thrive to their best. You will find the following species in our sanctuary, in their natural habitat and you may be able to feed many of them or get up close to them:
Giraffe
Antelope
Zebra
Ibex and wild ibex
Deer
Giselle
Watusi cow
Emu
Alpaca
Water buffalo
Camel
We are always expanding our animal family. So, whenever you visit the next time, you are likely to find a new species or variety.


Animal Encounters & Activities
A visit to a wildlife safari should be filled with all sorts of activities and animal encounters. At Safari Wild Animal Park & Preserve, we have created many exciting activities to help you spend time around different species. There is a multitude of wildlife experience programs that allow you to ride camels, meet your favorite animals, and hand-feed them.


Camel Rides
Camels are intelligent and loving animals. It is not often that you find a chance to get up close with these beautiful and magnificent animals. Our visitors can engage in camel riding, enjoy the company of these gorgeous creatures, and get a different view from the height. When you choose a camel ride, our guides will share many interesting facts with you.


Feedings Giraffes
This is another unique wildlife encounter that allows you to learn more about some of the rarest creatures you will come across. You can feed the tallest mammals on the planet and enjoy their graceful company along. At Safari Wild, you can feed fruits, leaves, herbs, and seeds to these magnanimous animals. You can get up close with them and check their unique patterns, 18-inch-long tongues, and their graceful behavior. We offer many other activities including petting wildlife creations, rainbow lorikeet feeding, and many safari experiences.

A visit to our wildlife safari park and preserve will allow you to explore all the activities, encounters, animal species, and programs that we offer for you and your family. Every time you want to plan a unique weekend experience with your family, you can spend quality time at Safari Wild Animal Park & Preserve. Call us at 662-526-0001 for more information or write to us by clicking here.