SAFARI WILD ANIMAL PARK, located 45 miles from GERMANTOWN, TN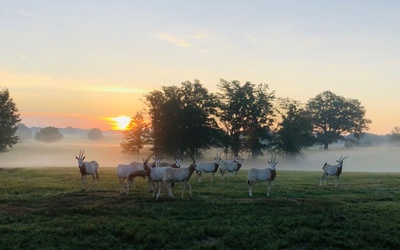 Germantown, TN is a 45 Mile drive to our Safari Park in Como, MS.
At Safari Wild Animal Park and Preserve, you'll be in for an amazing experience with beautiful views of animals grazing, happy, healthy, and content. Come visit us at just a short drive south of Memphis on interstate 55, to meet all the animals you can usually see only on TV. We are proud to offer you a wonderful authentic African drive-through, where you can meet, feed and interact with our amazing animals: camels, giraffes, ostriches, zebras, aoudads, buffalos, watusi, cattles and many more! We invite families from Germantown, TN and its surroundings to come and spend an enchanting day in nature and take fabulous photos with animals that can offer them an once-in-a-lifetime, magical experience.
Safari Drive-Through near Germantown, TN
Safari Wild Animal Park features a stunning 466 Acre authentic African Drive-Through Safari Park and offers families from Germantown, TN, and its surroundings the chance to experience the wilderness from a fresh perspective. From the comfort of your own vehicle, you can travel through our 6.5-mile drive, come face-to-face with an ostrich, a buffalo, a zebra or hand feed a gorgeous giraffe. Get up close and personal with the animals that will come right up to your vehicle for a greeting!
Camel Rides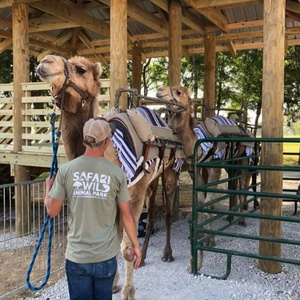 The relationship between man and animal has always been a fascination. Also called "ships of the desert", camels were domesticated more than 3,000 years ago, and are still used by humans for transport in arid environments, such as Africa, Asia and the Middle East. Experience for yourself what it is like to take a ride on one of Earth's most exotic forms of transportation by taking a camel ride! However, please note that each experience will be available based on the needs of the camels.
We wish to offer you a chance to relax and to be at one with nature while on the back of a beautiful, tame and well behaved camel. We promise that the setting and camel ride will give you a wonderful experience that you will wish to repeat. Camel rides operate on a seasonal basis and add to the uniqueness of our safari park. Children and adults alike find enjoyment in learning about our animals, so our lovely staff will be at your service to provide you with any information you need and with amazing facts about our friendly and gentle camels. In order not to affect our customers and camels' well-being, we have age and weight restrictions, as we wish to offer an ethical camel-riding experience. Please ask our staff all the details.
Whether you're a Germantown, TN resident or just visiting the area, our wildlife Safari Park will give everyone in your family the opportunity to really explore the African wildlife. Come out and enjoy a lovely Safari experience with our stunning animals.
Contact us for more details on our Safari Animal Park.