Wild Animal Safari Park In Como, MS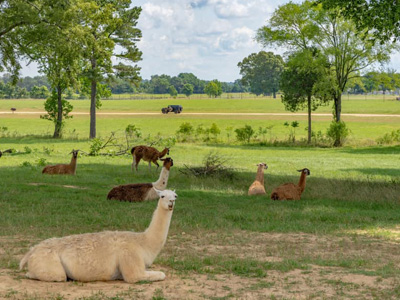 There are many ways to spend a great time with family and friends. Visiting an animal safari park in Como, Mississippi is something unique and special. Safari Wild Animal Park & Preserve provides you an African safari park right in the historic city, just 40 miles south of Memphis, TN. We are Mississippi and Tennessee's premier animal safari park. A weekend spent at our park is sure to bring you back for more fun.


Our Key Attractions
Our stunning animal park is spread across a staggering 466-acre area. We offer a drive-through and walk-through African Safari Park and Wild Animal Preserve, where you can get up close with friendly animals, feed some of them, and go on a wide range of activities.

There are over 6.5 miles of African Safari Roads for you to drive through in your own car. You can interact with animals while getting an experience exactly like making your way through the magnificent wilderness of Africa. This can be followed by a Foot Safari that further enhances the African experience.


Our Animals
We have a strong passion for animals and love to share it with our guests. When you visit our Safari Park, you are sure to return home with an unforgettable experience. We are sure you will be inspired to explore more of the wild animals in this world. At Safari Wild Animal Park & Preserve, you can come up and close to giraffe, antelope, deer, wild ibex, zebra, alpaca, emu, watusi, Giselle, water buffalo, and camel. Besides, you can also meet and become friends with your favorite farmyard animals and lorikeets.


Animal Encounters & Activities
Some of the popular animal encounters and activities in our park include:
Camel Rides: Camel rides are fun, easy, and suited for everyone. It is also a great way to explore our African park's wilderness from a good height. We are sure you would love to learn about the different types of facial expressions that these animals can make. You can learn more facts about these wonderful mammals during your ride.
Giraffe Feeding: The giraffes in our park are well-groomed and graceful. Get close with these beautiful and magnificent creatures and feed them their favorite food, acacia or fruits, herbs, leaves, and seeds. We can assure you that you can get tired of feeding them, but our giraffes will not from eating all day long.
Petting Zoo Barn: Our petting zoo features both wild and domesticated animals that are friendly and agreeable to touch and feed. Our barn is professionally supervised to always ensure your safety.
Lorikeet Feeding: The lorikeets at our park are a treat to the eyes. They are highly active and curious and are always eager to take food from your hands. You should not be surprised if they come and rest on your shoulders or head. Interestingly, these beautiful birds love nectar.
At Safari Wild Animal Park, we invite you to meet, feed, and spend time in the company of beautiful and friendly animals. Our Park is not just about creating the perfect environment for humans and animals to meet. It is also about instilling a passion for learning about wild animals. There are tons of farmyard fun activities for kids of all age groups. There are always some lovely baby animals to hand-feed.

Getting to Safari Wild Animal Park & Preserve in Como, Mississippi is easy and quick. All our efforts are focused on animal conservation and bringing together humans and animals in a setting that is closest to the African wilderness.

If you want to book your tickets or have any queries, feel free to call us at 662-526-0001. You may also write to us at info@safariwildanimalpark.com or using this Online Form.