SAFARI WILD ANIMAL PARK, located 55 miles from MEMPHIS, TN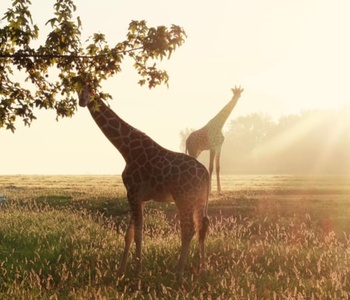 Memphis, TN is a 55 Mile drive to our Safari Park in Como, MS.
Safari Wild Animal Park is Mississippi's premier Safari Park, and is just a short drive south of Memphis on interstate 55. Therefore, we invite families from Memphis, TN and its surroundings to come and spend a lovely day in nature, taking fabulous photos with animals that can offer them an once-in-a-lifetime, magical experience. Imagine driving through miles of Safari Roads and viewing hundreds of rare and endangered animals, from the comfort of your own vehicle. At Safari Wild you will have opportunities to get up close and personal with animals, interact, feed, and photograph.
Safari Drive-Through near Memphis, TN
Safari Wild Animal Park is proud to offer you a wonderful authentic African drive-through, so you can meet, feed and interact with our amazing animals: giraffes, camels, ostriches, zebras, antelopes, buffalos, watusi cattles and many more! The animals are free to play, run, jump and frolic as they wish, so buckle up for your wildest car ride yet! Drive your vehicle over 6.5 miles of maintained road and feed the animals through your windows! But you can't be in a hurry as the animals often block your path out of curiosity, by laying flat-out in the sun. We assure you that they sure are a view!
Thanks to the fact that our animals are free to roam, you'll get the chance to see them like never before, an experience an average zoo can't offer. You'll be able to see why giraffe's long neck is a perfect adaptation to its natural habitat, how antelopes use their keen sense of hearing and run in herds, and many more other characteristics of our animals.
Giraffe Feeding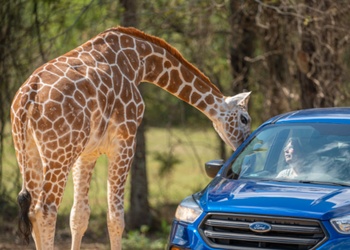 The highlight of any safari trip is feeding a giraffe. You have the chance to get up close to these gorgeous animals and even feel their tongues as they take the food from your palm. For only $5.00, you can have the unique opportunity of interacting with a graceful giraffe, one of our most beloved animals at Safari Wild Animal Park. Don't forget to snap a quick photo while feeding these animals!
Fun Fact: Did you know that a giraffe's neck is too short to reach the ground? As a result, it has to awkwardly spread its front legs or kneel to reach the ground for a drink of water. However, they only need to drink once every few days, as most of their water comes from all the plants they eat.
Whether you're a Memphis, TN resident or just visiting the area, our wildlife safari park will give everyone in your family the opportunity to explore their wild side. Come out and enjoy a great Safari experience from the comfort and safety of your own vehicle. Contact us for more details on our Safari Animal Park.