SAFARI WILD ANIMAL PARK, located 35 miles from OLIVE BRANCH, MS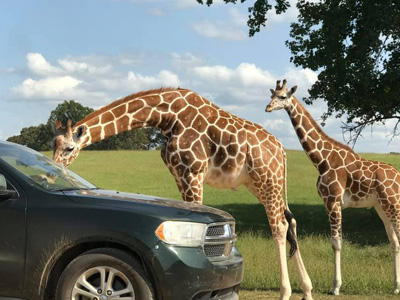 Olive Branch, MS is a 35 Mile drive to our Safari Park in Como, MS.
Here at Safari Wild Animal Park we have over 466 Acres of authentic African Drive-Through and Walk-Through Safari park and preserve. You will be amazed at the stunning setting that our animals live in and will be able to see it all for yourself either by car or by foot. You will be able to have an experience like at no other animal park you have visited.
We have visitors from the local MS and TN regions as well from all over the world! If you are in Olive Branch, MS and looking for a fun day out then come down to Safari Wild Animal Park and an amazing adventure!
Our Animals
We have a passion for animals and would like to share that passion with you by offering an experience to remember. Some of the animals that you will be able to watch, interact with and feed throughout the 6.5 miles of drive-through safari roads in our park include:
Giraffes
Zebras
Camels
Ostriches
Antelopes
Buffalos
Watusi Cattle
And so much more ...
You will delight in seeing how much we care for our animals and try to provide them with a natural environment for them to live in. let us welcome you into the wild and show you some of the amazing animals that the world has to offer.
Animal Encounters
We strongly believe in conservation and would like to increase the knowledge of our visitors on the part we can all play to ensure that all wildlife is protected. It is our goal to not only show our visitors our wonderful animals but to educate visitors about the role animals play, through our memorable animal encounters.
Here are a few of the animal encounters that are on offer at Safari Wild Animals Park:
Giraffe Feeding: have always wanted to feed a Giraffe? Well we have regular giraffe feeding sessions throughout the day and for a small $5 (plus Tax) you can feed the tallest mammal in the world. These graceful creatures really are one of the spectacular looking animals in the world. With their long necks and towering legs; you will be in awe of our giraffes. Their favorite food is acacia, trees and shrubs, herbs, fruit, seeds and leaves from over 100 different types of plants. They can consume up to 34kg of vegetation each day!
Lorikeet Feeding: the lorikeet is an Australasian species of parrot. It is medium in size and have the most vibrant colored feathers. For a fee of 5$ (plus Tax) you can enjoy some time with friendly and funny characters. They generally feed on nectar from native flowers as well as fruit. These active and curious parrots spend 70% of their day feeding, so come and give them a hand!
Petting Zoo Barn: the kids will absolutely love spending some time in our petting zoo barn. They will be able to get up close and feed some baby farm animals like chicks, lambs, bunnies, ducklings and even kittens. You will find it hard to get the kids to leave the barn after patting and cuddling some of the cutest animals in the park!
So bring the family and friends to Safari Wild Animals Park in Como, Mississippi for an experience that will stay with you for a lifetime!